Badam Paak ( Almond Squares)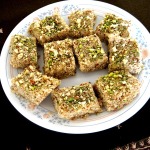 Instructions
In a small saucepan, heat milk and dissolve sugar
on low heat until melted. Add half teaspoon ground
cardamom, nutmeg and saffron. Keep warm.
Heat a nonstick wok on medium and add butter. Take
a spoonful of melted butter and grease a glass dish
oblong or round and keep aside.
Saute the semolina and the remaining ground
cardamom in the melted butter in the wok. Use a
wooden spoon and stir continuously until the mixture
turns golden and crisp.
Add the ground almonds and coconut flakes and stir
for 2 minutes. Add gum powder and poppy seeds.
Reduce heat to low and add the warm milk mixture.
Stir to blend the ingredients together until the milk is
absorbed. If the mixture is too dry, add more milk until
the spreading consistency is obtained.
Spread the almond mixture into the buttered dish
and pat with the back of a spoon to make an even
surface. Sprinkle poppy seeds, ground almonds
and pistachios. Let it cool completely, then cut into
squares. Good as a dessert and a tea-time snack!
I learnt this recipe from my mother-in-law.