Banana Delight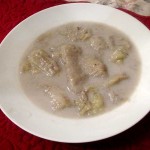 Instructions
Wash the bananas, cut the edges on the top and
at the tail and remove the skin.
Cut the bananas into halves and then slice lengthwise
to get 4 pieces from each banana.
Place the banana slices in a saucepan and cook
on medium heat with 2 cups of water. Do not
cover.
When the bananas are tender, add diluted coconut
cream, sugar and cardamom. Simmer on low heat,
turning once. Take care not to break the banana
slices.
When the coconut cream starts thickening and
the bananas are cooked to perfection, turn off
the heat. Check for any adjustments of sugar and
cream. Arrange in a serving dish.