Chicken Curry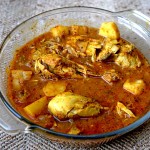 Instructions
Clean the chicken with warm water and discard the
skin and the clinging fat.
Add 5 cups water, tomato liquid, ginger, garlic, salt
and chopped onion.
Cook the chicken pieces in this liquid until tender,
stirring frequently. Keep aside.
Heat 1/3 cup oil in a saucepan and saute onions until
translucent.
Add potatoes, bell pepper, chopped chili, ginger,
garlic, turmeric, cumin, corriander, cardamom, fennel
and salt. Stir and add one cup water.
Add remaining broth from the cooked chicken. Cover
the pan and let the mixture simmer on medium heat
until the potatoes are cooked, stirring frequently.
Add the canned tomato sauce, ketchup and cooked chicken
pieces. Sprinkle cinnamon powder if preferred.
Simmer the curry on low heat for 5 minutes and adjust
the taste. Serve with rice, bread, paratha or rotis.