Daal Bhajia (Lentil fritters)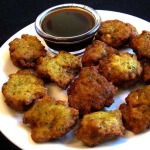 Instructions
Soak the peas & lentils overnight in separate
containers with plenty of water to allow them to rise.
In the morning, wash and clean the grains several
times to remove the husks and grit.
Drain the water and grind both the grains in a food
processor with little water, small portion at a time. Add
some chopped chilies, onions, pepper, cilantro and
fenugreek leaves to each portion.
Grind them coarsely, strain through a fi ne sieve and
save the water. Grind the remaining grains with the
strained liquid until all the grains are ground to a thick
pulp. Any extra liquid should be drained off.
Add garlic paste, ginger paste, cumin seeds,
coriander powder, turmeric powder, salt and 2 tbs of
oil to the mixture.
Heat the oil on medium to high heat in a deep nonstick
frying wok. Make patties from the mixture and fry
a few at a time until both sides are brown and crispy.
Serve with chutney of your choice. These fritters are
good as appetizers and tea-time snack and also as an
accompaniment for chickpea curry.