Egg meat delight ( Mkate Mayai)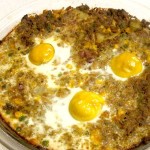 Instructions
Meat in boiling water and remove the floating fat.
Strain out the water.
Add 3 cups of fresh water and cook the meat in a
saucepan, add salt, ginger paste, garlic paste and
lemon juice.
Stir frequently to avoid lumps. The meat should have
a little liquid remaining after it is perfectly cooked.
While the meat is cooking, prepare the rest of the
ingredients.
Heat oil on medium in a deep saucepan. Saute
onions until golden. Add the liquefi ed tomato and
cilantro. Add garlic paste, ginger paste, lemon juice,
cumin seeds, coriander seeds, turmeric powder, chili,
cinnamon powder, clove powder, cardamom powder,
nutmeg powder, sugar, salt, fennel and mint paste.
Simmer on low heat and add tomato sauce.
Add the cooked meat with its little remaining liquid.
Stir and let the mixture simmer for 2 to 3 minutes to
absorb any extra liquid. The mixture should be thick.
Add ketchup, fried onions and fried potatoes. Cook
for one minute and then turn off the heat.
Pre-heat the oven to 300° F. Spread an oven proof
glass dish 10" x 2" round or oblong with one
tablespoon of oil. Pour the cooked meat mixture into
the dish. Make four holes to hold the eggs. Break
each egg separately in a bowl, dividing whites from
the yolks. Place an egg yolk in each of the four holes.
Save the whites for other use, or discard them.
Place the meat dish in the pre-heated oven for
approximately 30 minutes, or until the eggs are
cooked through and hard to touch. Serve hot with
rotis, parathas or bread. Good as a main meal for a
family.