Fish Paka (Baked or grilled fish in coconut sauce)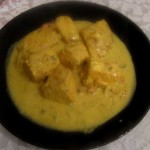 Instructions
Marinate fish in it's ingredients for 15 minutes. Bake or
grill with its liquid until cooked and slightly crisp. While
the fish is baking, prepare the sauce.
Coconut Sauce:
In a deep saucepan, heat oil on medium and saute
onions, until translucent. Add the tomato liquid, and
the rest of the ingredients, except the coconut cream.
Cook for five minutes, then add the coconut cream.
Stir until the sauce is well blended and thick. Place
the cooked fish fillets in the sauce with its fluids. Do
not cover. Let the pan simmer for a couple of minutes,
then turn off the heat. Serve hot with rice, bread,
paratha, ugali or roti.
If you prefer to cook a whole fish, you may use a
roasting pan to bake or grill. The coconut sauce
should be cooked on the stove and then poured over
the cooked fish while it is still in the oven. Let the pan
remain in the oven for the fish to absorb the coconut
sauce for about 10-15 minutes and then serve.