Fish Potato cutlets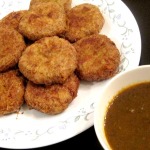 Instructions
Mix two cups of water with half the lemon juice,
half salt, half chili paste, half cumin seeds, turmeric
powder, cilantro and garlic paste and marinate the
cleaned fish fillets for half an hour.
In the same marinade, cook the fish in a saucepan,
turning frequently until it flakes easily and the liquid is
absorbed. Drain and keep aside and let cool.
In a large dish mix the mashed potatoes with the
remaining salt, cumin seeds, lemon juice and chili
paste. Flake the cooked fish and mix with the potato
mixture. Bind the mixture well like dough and taste for
any additional seasoning of your choice.
Form into patties roll in a dish of breadcrumbs, coat
with whisked eggs to which a little water is added to
dilute, and fry in hot oil until golden and crisp on all
sides.
Great as a starter for a party!