Fried Yuca (Cassava)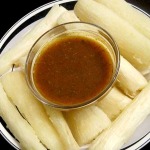 Yuca is called Mhogo in EAST AFRICA
Instructions
Peel the yuca, cut into finger size strips, wash in
plenty of water to remove the grit. Discard the centre
string.
In a glass bowl, mix 2 cups of water with salt, chili
powder and lemon juice. Marinate the yuca pieces at
room temperature for at least two hours, or keep in
the refrigerator for four hours.
In a deep wok, fry the yuca strips in medium to hot
oil, after removing from the marinade. They should be
golden brown, crisp and well cooked through. Fry a
few pieces at a time.
Use the marinade to make a dip by adding tomato
ketchup, red chili sauce and a little sugar. A tasty
finger food!
Note: You may use frozen yuca if fresh is not available.