Gagan ( Sugar coated cookie sticks)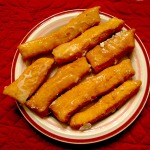 Instructions
Sieve the fl our and baking powder together. Add the
cardamom powder.
Heat the oil, butter and milk on medium and add to
the fl our.
Bind into a smooth, stiff dough. If necessary, add a
little milk or fl our. Divide into 4 portions.
Roll out 1 portion of the dough on a lightly fl oured
board, about half inch thick, into an oblong shape.
Press the rolled out pastry with your hands applying a
little butter or oil. Fold the pastry and roll out again to
half inch thickness.
Cut into 3 or 4 inches long strips and keep aside until
all the dough is done.
Fry a few at a time in medium to hot oil until crisp and
golden. Strain in a colander and let them cool.
For frosting:
Boil the sugar with its milk and water in a large
saucepan. Keep on stirring until the frosting is no
longer sticking on the sides of the pan. Place a drop
of the frosting in a plate to test the right consistency.
If it is hard to the touch, then the frosting is ready. Add
the rose essence.
Place the fried cookies in the frosting for coating.
Mix by shaking the pan several times and fl ipping so
that all the gagans are coated with sugary frosting. Let
them dry, then arrange in a plate. Good for a snack!