Goor Paak (whole wheat squares)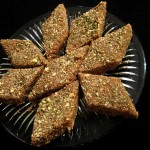 Rating
Yield :

15-20 pieces
Instructions
Sieve the flour and keep aside. Melt the goor on low
heat in a small saucepan, adding evaporated milk, oil
and sugar. Stir and add the ground nutmeg, half of the
cardamom seeds and saffron, and keep it warm and
completely melted. Do not boil.
Grease a large tray with melted butter for spreading
the Paak after cooking.
Heat a large deep non-stick pan or wok and melt
the butter. Add the sieved flour and the remaining
cardamom seeds and saute with a large wooden
spoon on medium heat until light brown, and an
aroma of roasted flour is sensed. This will take about
10 minutes.
Add the fennel seeds, poppy seeds, almonds and
gum powder. Add the goor milk mixture, lower the
heat and stir to blend the goor smoothly with the flour.
Continue mixing on low heat until the butter oozes
from the sides of the pan. Do not overcook or the
Paak will be hard.
Transfer the cooked Paak in the greased tray and pat
evenly to make a smooth top. Any extra butter visible
on the surface should be removed by a spoon.
Sprinkle almond, poppy seeds and fennel seeds,
pressing them with a spoon. Let it cool for about
one hour or more, then cut into squares or diamond
shapes.
Note: This is my family's favorite sweet dish, which I
learnt from my mother. She had really perfected the
goor paak recipe; mine comes very close to hers.
Great for parties and festive occasions.