Goor Thepla ( Jaggery Cookies)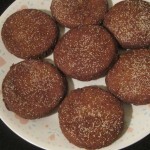 Instructions
Melt goor in warm water on low heat. Add sugar when
the goor is fully melted.
Stir gently until the melted goor forms into smooth
syrup. Do not boil it.
Strain the melted goor through a fine sieve into a bowl.
Mix melted butter and oil with the goor syrup and let it
cool.
Sieve the flour in a large dish. Add cardamom powder,
partially ground fennel, poppy seeds and nutmeg
powder and mix all ingredients with the flour.
Add the goor syrup to the flour mixture and knead well
to form a stiff dough. Divide the dough into 6 equal
portions.
Sprinkle some flour and poppy seeds on the pastry
board and roll the dough to ¼ inch thick.
Cut into round cookies with a cookie cutter. Press
some poppy seeds on the cookies with your rolling
pin so they may not fall off during frying.
Fry 3-4 cookies at a time (to avoid breaking and give
them ample space to puff up) in medium to hot oil
until the cookies are nicely browned on both sides.
Strain cookies from oil, place in colander, then on
absorbent paper towel to soak up the extra oil.
These cookies can be kept at room temperature for a
week. You can also save the cookies in a freezer for a
couple of weeks or more.
May yield 30 or more thepla according to the size you
make. The cookies are very good for breakfast, midmorning
snack, party, lunch box and afternoon tea.
This recipe was taught to me by my mother-in-law. She
made the best thepla in the world!