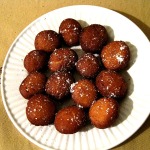 additional reading These are sweet buns which taste like donuts. There were no donuts shops in those days in
Dar es salaam, Tanzania. I created this recipe to substitute donuts and the kids loved them
because of their puffy soft texture. The grownups in the family also took a liking for these delicious
breakfast treats and enjoyed them with their tea or coffee. Because of their puffy appearance, my
kids called them bhum bhum.
Instructions
http://newpattaya.com/molekyla/1592 Sieve the flour and baking powder together in a large
dish.
speed dating maghrebin a paris In a separate bowl, whisk the eggs. Add butter, sugar,
yogurt and 2 tbs oil. Mix to a smooth creamy mixture.
why not check here Add the vanilla extract and cardamom powder to the
cream. Mix this cream with the fl our mixture. Bind to
a smooth dough adding more fl our or water, or milk, if
necessary.
rencontre homme kinshasa Roll out the dough on a lightly fl oured pastry board
about half an inch thick and cut into your favorite
shapes.
rencontre fille coréenne Heat a deep wok on medium to high heat and fry
the bhum bhums a few at a time, until both sides
are nicely browned. Transfer to a colander to drain
away the oil. Arrange in a tray lined with an absorbent
paper. Serve hot or cold.
http://payneortho.com/?markyre=frio-no-apto-para-solteros&bf0=df Note: You may sprinkle some confectioners' sugar if
you like. The quantity of the buns will depend upon
the size you make. Great for a party!