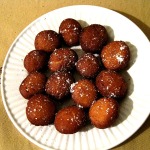 site de rencontre dans lanaudiere These are sweet buns which taste like donuts. There were no donuts shops in those days in
Dar es salaam, Tanzania. I created this recipe to substitute donuts and the kids loved them
because of their puffy soft texture. The grownups in the family also took a liking for these delicious
breakfast treats and enjoyed them with their tea or coffee. Because of their puffy appearance, my
kids called them bhum bhum.
Instructions
link Sieve the flour and baking powder together in a large
dish.
go to these guys In a separate bowl, whisk the eggs. Add butter, sugar,
yogurt and 2 tbs oil. Mix to a smooth creamy mixture.
site de rencontre twig Add the vanilla extract and cardamom powder to the
cream. Mix this cream with the fl our mixture. Bind to
a smooth dough adding more fl our or water, or milk, if
necessary.
site de rencontre ngaoundere Roll out the dough on a lightly fl oured pastry board
about half an inch thick and cut into your favorite
shapes.
rencontres de pétrarque 2013 Heat a deep wok on medium to high heat and fry
the bhum bhums a few at a time, until both sides
are nicely browned. Transfer to a colander to drain
away the oil. Arrange in a tray lined with an absorbent
paper. Serve hot or cold.
you can find out more Note: You may sprinkle some confectioners' sugar if
you like. The quantity of the buns will depend upon
the size you make. Great for a party!