Khaman Dhokra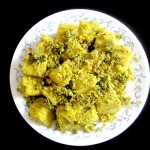 Instructions
Heat the oil on low and add the mustard seeds, curry
leaves, garlic, chillis, bell pepper, and cilantro. Take
care as the mustard seeds may splatter.
Stir for a moment and then add water to cook the
vegetables.
Add the remaining ingredients and stir until the water
is evaporated.
Add the dhokra pieces, stir and cover them with
the spicy mixture. Serve as a tea-time snack or as a
starter for a party.