Kheema Paratha (pastries with mincemeat and vegetables)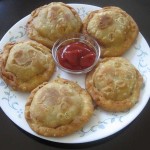 Instructions
Mix the first five ingredients to form a soft dough.
Keep aside covered at room temperature.
In a saucepan, cook the meat with salt, ginger paste,
garlic paste, lemon juice and water, straining away any
visible fat. You may add more water if necessary.
When the meat is ready and very little liquid remains,
add the remaining ingredients, except the onion. Stir
until the mixture is dry.
Transfer to a colander to drain away any leftover
liquid.
Let the mixture cool down, then add the chopped
onion.
Heat about two cups of oil in a deep wok on medium
heat.
Divide the dough into 14 portions and roll out on a
lightly floured board into thin circles of 4" rounds.
Make a paste of 1 tbs fl our with 1 tbs water.
Fill one circle with the meat mixture in the center,
apply some paste round the edges. Cover with
another circle and twist around to seal the pastry.
Fry on medium to high heat until golden brown and
crisp on both sides.
Transfer to a strainer and then to a paper towel lined
tray.