Kheer (Rice Pudding)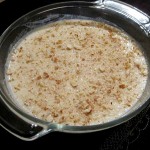 This is a delicious Indian sweet dish which is served during family meals and also at parties as a
dessert. It is also a popular dessert item at many Indian Restaurants.
Instructions
Wash and soak the rice 2 hours before cooking.
Cook the rice in 4 cups of water on medium heat,
until it is tender and mushy, adding more water
if necessary. Whisk the grains to make a smooth
pudding.
Lower the heat, and add fresh milk. Stir and
add sugar, ground cardamom, nutmeg, crushed
almonds and the evaporated milk. Keep on stirring
continuously to avoid sticking at the bottom.
The milk should be completely absorbed with the
rice. When the mixture starts bubbling, remove from
the heat and let it cool in a large glass bowl. Keep on
stirring to avoid forming a layer on top. Garnish with
crushed almonds. Serve hot or cold.