Kuku Paka ( Chicken in coconut sauce)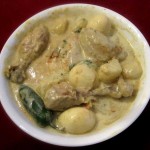 Instructions
Rinse the chicken in boiling water to remove any
clinging fat, and make a couple of slits in the thicker
part of the chicken pieces.
In a large bowl, mix two cups of water, with garlic
paste, ginger paste, chili paste, salt, turmeric powder,
ground coriander and cumin seeds, lemon juice,
liquefi ed tomato, and oil. Marinate the chicken in this
mixture for at least 1 hour, turning frequently so that
the marinade can permeate the chicken. Keep in the
refrigerator.
Bake the chicken with its marinade on 350º F until
golden and tender. You may baste it with the liquid
during the baking time. Whilst the chicken is baking,
prepare the coconut sauce as per directions below.
In a large saucepan, heat 1 tbs oil on medium, and
saute the onions, bell pepper, and chopped chili, until
tender. Add cilantro, salt, turmeric powder, ground
cumin and coriander seeds, garlic paste, ginger paste,
and the liquid from the baked chicken as well as the
lemon juice.
Stir in the liquefied coconut cream and the boiled
potatoes and simmer on very low heat for 2 minutes.
Add the chicken pieces and continue simmering until
the sauce thickens. Taste the seasoning and make
necessary adjustments. If the sauce seems thin, add
more coconut cream.
Remove the shells of the hard-boiled eggs and place
them whole in the coconut chicken sauce and cover
them with the sauce. Let the sauce simmer on low heat
for a couple of minutes then turn off the heat. Do not
cover the pan. Transfer to a large deep glass dish for
serving.
Great with white rice, bread, rotis, parathas, and
mkate mimina (rice bread). The recipe for mkate
mimina is included in this book.