Machi Bhaat (Fish Pulav)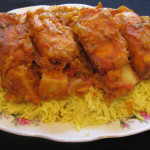 Rating
Yield :

6 servings
Ingredients
For Fish Marinade
water - 1 cup
salt - ¾ tsp
lemon juice - 2 tbs
cumin, ground - 1 tsp
turmeric powder - ¼ tsp
coriander powder - 1tsp
tomato sauce or paste - 1 tbs
oil - 1 tbs
Clean the fish and marinate in the above ingredients for 20 to 30 minutes, then bake, fry or broil according to your liking. Keep aside.
For Sauce
oil - ⅓ cup
onions, finely chopped - 2 large
finely cut bell pepper - 1 tbs
chili paste - 1 tsp
cumin seeds, ground - 1 tsp
coriander seeds, ground - 1 tsp
turmeric powder - ½ tsp
cilantro leaves, shredded - ½ cup
fennel seeds, ground - ½ tsp
cardamom seeds, ground - ¼ tsp
tomato, liquefied - 1 fresh
lemon juice - 1 tbs
sugar - 1 tsp
salt - ½ tsp
garlic paste - 1 tsp
ginger paste - 1 tsp
coconut cream - 1 cup
fried onions - ½ cup
water - ½ cup
tomato sauce (canned) - 4 ozs
tomato ketchup - 2 ozs
For Pulav
chopped onion - 2 tbs
oil - ½ cup
stick (optional) - 1 cinnamon
salt - 1 level tsp
turmeric powder - 1/8 tsp
cumin seeds, ground - ½ tsp
coriander seeds, ground - ½ tsp
finely chopped bell pepper - 1 tbs
finely cut green chili - 1 tbs
garlic paste - 1 tbs
ginger paste - 1 tbs
cardamom powder - ¼ tsp
fennel seeds, ground - ¼ tsp
lemon juice - 1 tbs
water - 6 cups
cilantro leaves, shredded - 1 tbs
coconut cream - 2 tbs
fried onions - 2 tbs
Instructions
Heat a large saucepan on medium and fry the chopped
onions in 1/3 cup of oil until golden. Add bell pepper,
cilantro, garlic paste, ginger paste, green chili paste, cumin
seeds, turmeric powder, coriander seeds, fennel seeds,
ground cardamom seeds, fresh liquefied tomato, sugar, salt,
lemon juice and water. Cook for 2 minutes, then add the
fried potatoes and fried onions, tomato sauce and ketchup.
Lastly add coconut cream.
Let the mixture simmer on very low heat to avoid sticking
at the bottom. If the mixture is too thick and dry, add a little
water. Mix well and cook for 2 to 3 minutes, or until the
gravy is well blended. Taste flavor and then add the fish
pieces which were previously fried or broiled. Keep off the
fire.
Preheat oven at 250°F.
In a large saucepan, heat half cup of oil and fry the
cinnamon stick and the chopped onions until tender but not
browned.
Add bell pepper, chilli, garlic paste, ginger paste, cilantro
leaves, all the spices, salt, lemon juice, and 6 cups of water
and bring to boil.
Wash and drain the rice and add to the boiling water. Cover
and cook on low heat until the rice is tender and water is
absorbed.
Add coconut cream and fried onions. Keep in the preheated
oven, turning occasionally. Add 1 to 2 tbs of fish
gravy to the rice to give it an extra flavor and gently stir. If
the rice is not perfectly cooked, add a little water.
Arrange the rice in a large platter, arrange spice coated fish
on top with its sauce and potatoes. Serve with a salad of
your choice.