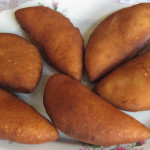 http://inspirationbygod.net/firet/3297 Mandazi is a favorite breakfast snack in East Africa. It is a type of bread that is fried in hot oil on a
stovetop. It is not baked in an oven. Many food vendors in the streets and roadside
restaurants sell mandazi on their breakfast menu. They are good with tea or coffee.
Rating
Yield :

16 mandazi
Instructions
online dating for seniors reviews Soak the yeast in quarter cup of warm water with
1 tsp sugar. Cover tightly to let it rise for about 10 to
15 minutes. When the yeast has fully fermented, mix it
with the warm coconut cream. Keep aside.
http://ligaspanyol.net/?mikroskop=site-de-rencontre-algerien-son-inscription&334=63 In a large dish, sieve the flour, add sugar, oil and
cardamom seeds and bind with the coconut cream
and yeast mixture to make a soft dough.
site de rencontre francais japonaise Grease a deep warm metal pan and transfer the
dough to this pan covering it tightly to let it rise in a
warm place. This will take about 3 to 4 hours. The
dough should resemble the pizza dough. You may
adjust it by adding a little flour or cream if necessary.
chat de rencontre gay When the dough has risen considerably, divide it into
8 equal portions. Roll out each portion about ¼ inch
thick and 4 inches round on a lightly floured pastry
board.
site de rencontre aprГЁs rupture Cut the rounds into half making crescent
shape. Place all the rolled out pastries on paper
towels on a table for about 30 minutes to let them rise
again.
site de rencontre rapide et facile Deep fry the mandazi in hot oil in a nonstick deep wok
3 to 4 pieces at a time to give them ample space to
rise. This will depend upon the size of your pan. Do
not over-crowd them. The mandazi should puff up and
become golden brown on both sides by flipping once
or twice.
les site de rencontre non payant Transfer the cooked mandazi to a colander to drain
the oil, then arrange on an absorbent paper-lined tray.
Serve with tea or coffee.