Mayai Paka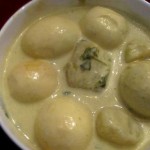 Instructions
Heat oil in a deep saucepan on low heat, and saute
onions and bell peppers until tender.
Add garlic paste, turmeric powder, ground cumin and
coriander seeds, chili paste, salt and cilantro. Cook
for one minute. Pour the tomato liquid and lemon juice
and let it come to a boil.
After 2 minutes pour the diluted coconut cream and
stir to avoid curdling. Reduce to simmer.
Add the boiled and shelled whole eggs. Add boiled,
peeled and cubed potatoes. Let the pan simmer on
low heat to thicken the sauce. Taste for adjustments
and serve hot with roti, rice, paratha or bread.