Multi-purpose chutney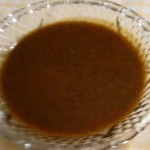 Rating
Yield :

10 or more servings
Instructions
Wash the cilantro in plenty of water to remove sand.
Strain.
Grind the cilantro leaves and the chopped chilies with
1 cup of water into a smooth paste.
Heat the oil on medium, pour the cilantro mixture and
the remaining 2 cups of water. Stir for 5 minutes, then
add the tomato sauce, garlic, ginger, spices, sugar,
salt, lemon juice and tamarind paste.
Stir on medium heat for 5 minutes and add the
ketchup. If the sauce is heavy, add more water to
dilute. If it is light, add more ketchup. Taste and make
necessary adjustments. Serve hot or cold.
This chutney may keep fresh for 2 weeks in a
refrigerator.