Potato meat kebabs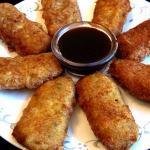 Instructions
Step 1
Soak the meat in boiling water for a couple of
minutes, and drain away the fatty water. Cook the
meat in the ingredients, with two cups of water
until nicely browned. Keep it covered until well
cooked, stirring frequently.
Step 2
Add all the spices to the meat mixture except the
chopped onion, and continue cooking and stirring
until the mixture is dry. Transfer to a strainer to
drain away any leftover liquid. When the mixture
has cooled down, add the chopped onion. Leave
the mixture in the strainer.
Step 3
Place the potato mixture in a bowl and add the
meat mixture. Combine to make a fi rm dough.
Step 4
Whisk the eggs with 2 tbs of water.
Take small portions of the potato meat dough,
roll into sausage shape kebabs with your hands.
Coat with breadcrumbs, dip into whisked eggs,
and fry in hot oil until browned on all sides, and
crisp. Transfer to colander to drain away oil drips.
Arrange on an absorbent paper-lined tray to serve.
Good for a party, lunch or brunch!