Potato Meat Patties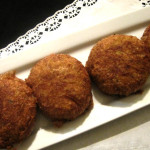 These patties are made with mashed potatoes and stuffed with cooked ground meat of your
choice. They are delicious snacks for a party or family gatherings.
Rating
Yield :

12-15 patties
Ingredients
meat - 1 lb ground
water - 4 cups
ginger paste - 1 tbs
garlic paste - 1 tbs
lemon juice - 1 tbs
salt - ½ tsp
cumin seeds, ground - ½ tsp
coriander seeds, ground - ½ tsp
chili paste - ½ tsp
mint paste - ½ tsp
turmeric powder - ½ tsp
sugar - ½ tsp
cardamom powder - ½ tsp
cinnamon powder - ½ tsp
clove powder - ½ tsp
fennel seeds, ground - ½ tsp
black pepper, ground - ½ tsp
nutmeg powder - 1/8 tsp
finely chopped green bell pepper - 1 tbs
onion, finely chopped - 1 large
For the Mashed Potatoes: 12 large potatoes, cooked, peeled, and mashed . 1 tsp salt , 1 tbs lemon juice or 1 tsp citric acid (available in Indian Stores), 1 tsp chili paste 1 tsp ground cumin - mix together and keep aside . For Cooking the Patties : 3 cups breadcrumbs, 3 to 4 eggs for coating and 3 cups oil for frying
Instructions
Step 1:
Stir the meat in boiling water and drain the floating fat.
Replace with fresh water, add salt, ginger paste, garlic
paste and lemon juice. Cook the meat on medium
heat, stirring occasionally.
When the meat is nearly cooked and remaining with
a very small amount of liquid, add the chopped bell
pepper, cilantro, the spices and sugar. Let the mixture
simmer on very low heat until dry.
Transfer the meat mixture into a strainer to drain away
any remaining liquid. Let it cool and then add the
finely chopped onion. Keep aside, while you prepare
the mashed potatoes.
Step 2:
Mix the mashed potatoes ingredients and form into
large and small patties. Arrange them on the bed of
breadcrumbs in the plate.
Take one small patty in your hand, fill it with a tbs of
meat mixture and cover it with the large patty, to make
a flat round ball.
Step 3:
Heat the oil in a deep non-stick wok on medium high.
Whisk 2 eggs in a deep bowl with 2 tbs of water. The
remaining eggs will be needed later.
Roll the filled patty in breadcrumbs to cover it
completely, then dip in the egg mixture, and fry in
medium hot oil until golden and crisp on all sides.
Strain in a colander and then arrange on an absorbent
paper-lined tray. Serve with chutney of your choice.
Very delicious!