Singoli ( Coconut Turnovers)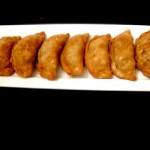 Rating
Yield :

15 singolis
Instructions
Step 1 For the dough:
Sieve the flour in a dish. Add the hot oil taking care
not to burn yourself. Melt the sugar in hot
water, add vanilla and pour the mixture into the
flour.
Mix the flour with a spoon until it cools down and
then form into a soft dough. Cover and let it stand
at the room temperature while you make the filling.
Step 2 For the filling:
In a non-stick wok, heat 2 tbs of oil on medium.
Saute the coconut with a large wooden spoon
until it turns golden. Add the almonds, raisins,
fennel, poppy seeds, cardamom and nutmeg
powder.
Add sugar and evaporated milk with saffron and
continue stirring until the milk is absorbed and the
mixture is dry. Remove from the heat and let it cool
while you prepare to roll the pastry.
Step 3: Turnovers
On a lightly floured board, roll out small balls of the
dough in thin 4''circles. Mix 1 tbs of the fl our with
1 tbs of water for pasting.
Fill each circle of the pastry with the coconut filling
on one side of the circle. Apply a thin layer of the
paste all over the round edge and turn over the
second half over the filled part. Apply another layer
of the paste round the edges of the pastry and
twist to seal. Fry the filled pastry on medium heat
until golden and crisp on both sides. Place in a
strainer to drain away the dripping oil, then arrange
in a paper-lined tray to absorb extra oil. Serve it
as a tea time snack. Any remaining pastry can be
used for sakar para (recipe included in this book).