Spicy Eggplant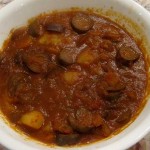 Instructions
In a deep wok, heat oil on medium and saute the
onions until golden.
Add the bell pepper, cilantro, salt, turmeric powder,
coriander seeds, cumin seeds, chili, garlic and
ginger paste.
Add the eggplants and stir to coat them with the
spicy mixture. Pour the liquefi ed tomato, stir and
cover to cook on low heat until the eggplants are
tender. You may add more water if the eggplants
are not yet cooked.
Add the tomato sauce, ketchup, brown sugar,
fenugreek leaves and lemon juice. Stir until the
mixture is thick.
Add the fried potatoes and mix with the eggplants.
Serve hot with roti, paratha, khichri and bread.
Bajri Roti is also good with this dish.