Spicy Pooris (A savory Indian snack)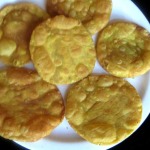 Instructions
Sieve the fl our in a large dish, add the salt, and all
the spices.
Make a well in the centre of the fl our, and pour
very hot oil, taking care not to burn yourself. Cover
the hot oil with the fl our. Let it cool slightly, then
pour the boiling water.
Mix quickly with a large wooden spoon to avoid
forming lumps. As the mixture cools down,
knead into a soft dough, with your hands. Keep it
covered.
Heat a shallow wok on medium heat and warm up
one cup of oil. Roll out small balls of the dough on
a fl oured board, about 4 to 5 inches round, and
thin. Make a few slits on the rounds so that they
do not puff up, but become crisp. Fry one or two
pooris at a time, pressing them with your slotted
spoon, until golden and crisp. Add the remaining
oil when needed.
Strain in a colander, and then arrange in a tray
lined with absorbent paper to absorb oil. When
cool, store in air-tight containers. Good as a teatime
snack.