Sweet Sevaiya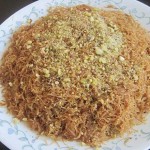 Pre-heat oven to 200°F.
Spread the contents of the sevaiya package in a
tray and break into 2" pieces.
In a large deep saucepan heat oil on medium and
melt the butter in this oil. Immediately add the
whole cinnamon & cardamom and the broken
vermicelli. Lower the heat and saute the vermicelli
with a large wooden spoon, taking care not to burn
those which are below the surface.
The vermicelli should roast to a golden color and
until an aroma of cooked wheat is sensed. Add the
hot water, keeping yourself far from the steam. As
the water starts evaporating add the sugar, fresh
milk with crushed cardamoms and evaporated
milk. Add half the crushed almonds.
Stir and keep the pan in the pre-heated oven. Do
not cover. After 10 minutes, add the golden raisins
and stir again.
Let the pan remain in the oven until the vermicelli
is dry and fl uffy, turning every 10 minutes. When
ready, transfer the cooked sevaiya to a large
serving dish and garnish with the remaining
crushed almonds. The cinnamon stick and the
whole cardamoms are for fl avor only and should
be discarded before eating. Great for a party!
Rating
Yield :

6 servings
Instructions