Whole wheat Ladoos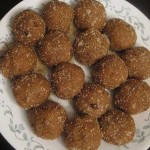 Instructions
Sieve the fl our. Keep aside.
Heat the goor in a small deep pan on a very low fl ame,
adding 1 tbs oil and the evaporated milk.
Add half the cardamom seeds, nutmeg, and saffron.
Stir and keep it warm until the goor is completely
melted, then add sugar and stir to make a smooth
syrup. Keep warm.
Heat a non-stick large deep pan on medium fl ame.
Melt the butter and roast the sieved fl our with the
remaining ground cardamom, stirring continuously
until the fl our is slightly browned and you can smell
an aroma of roasted fl our. Add fennel seeds and 2 tsp
poppy seeds and gum powder, chopped raisins and
crushed almonds.
Stir and add the jaggery syrup, mixing with the
roasted fl our mixture. Lower the heat and keep on
stirring until the jaggery syrup is well blended in the
fl our.
If the mixture seems dry, add more evaporated milk.
When the butter starts oozing from the sides of the
pan, remove the pan from the heat.
Spread 4 tbs of poppy seeds in a large platter. As
soon as the ladoo mixture cools down a little, form
into small round balls and roll them on the bed of
poppy seeds, covering them completely.
May yield 20 or more ladoos, according to the size
you make.
Excellent for a party!