This is a popular Tanzanian dish, which can be enjoyed on its own or as a side dish for a main
meal. It is a root vegetable and is from the family of potato and yam. It can be found in most of the
supermarkets in raw form, and also in the frozen products section of Asian supermarkets, ready
peeled and cleaned and cut into pieces. To make it tastier, cooked meat, chicken or boneless fish
pieces may be added at the end of the cooking.
YuCa in coconut sauce (Mhogo in Kiswahili)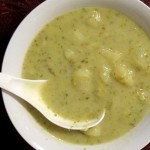 Rating
Yield :

4-5 servings
Instructions
Peel the fresh yuca, cut into bite size pieces, remove
the centre core, and wash in plenty of water to remove
grit.
Boil on medium heat in four cups of water with salt,
stirring frequently, until tender.
Add the tomato liquid, onion, chili, turmeric powder,
cilantro and lemon juice. Let it simmer on low heat for
a couple of minutes, until mushy. Do not cover.
Add the coconut cream and keep on stirring on very
low heat until it is well absorbed and the mixture is
thick. Taste for adjustments of salt and spices. If the
mixture is too thick, add a little water, broth or more
coconut cream.
At this stage you may add cooked meat, chicken or
boneless fish. Serve hot as a main meal or side dish
for lunch or brunch.