Agar Agar Dessert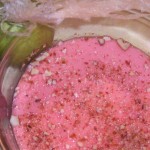 (A milky sweet dish made from strands of jellying product available in
packets in the Asian markets)
Rating
Yield :

6 to 8 servings
Instructions
Wash and soak agar agar in 4 cups of warm water
until dissolved.
Put dissolved agar agar in a deep non stick
saucepan with the same water and cook on low
heat.
Stir with wooden spoon until the strands are
melted and disappeared in the water.
Pour both the cans of evaporated milk in the
melted agar agar and stir continuously.
Add fresh milk, sugar, food color and the crushed
cardamom seeds. The color of the mixture should
be pink. Adjust color and sugar if necessary.
Keep the mixture on low heat to save from sticking
at the bottom of the pan. Keep on stirring.
When the mixture starts boiling, remove the pan
from the heat.
Keep the pan in a dish of cold water. When it starts
cooling down, add vanilla extract and stir again.
Strain the mixture through a fine sieve into a deep
glass bowl or in individual serving bowls to set.
When set, sprinkle crushed almonds and
pistachios to decorate.
Refrigerate when cool.