Chana Bateta ( Chickpea and Potato Curry)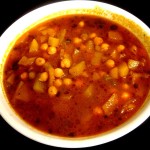 Rating
Yield :

4-6 servings
Instructions
Heat oil in a deep pan and add mustard seeds, curry
leaves, chopped onion, bell pepper and chopped
green chili. Stir until onions and other vegetables are
tender.
Add the potato and apple cubes. Add garlic, ginger,
salt and other spices. Stir and add the tomato liquid
and 3 cups of water. Cover and let the curry simmer
until the potatoes and apple pieces are cooked. Add
the cilantro and fenugreek leaves.
Strain and rinse the garbanzo beans in cold water and
mix with the potatoes. Pour the tomato sauce and
ketchup.
Add sugar and tamarind chutney or lemon juice.
Let the curry simmer on low heat until the required
consistency is obtained.
Adjust the spices and salt according to your taste.
Serve with daal bhajia, moong wada, spicy chilla,
sweet rice, and pakora. All these recipes are included
in this book. They are also tasty with corn fl akes and
rice crispies.