Naankhatai ( Butter Cookies)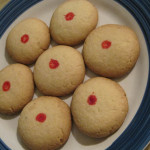 Rating
Yield :

24 cookies
Instructions
Pre-heat the oven to 300°F.
Beat sugar and butter in a steel bowl with an electric
mixer until creamy, stopping the machine and mixing
with a wooden spoon in between.
Add egg and vanilla extract and beat again until well
blended.
Remove the bowl from the mixer and keep aside.
Sieve the flour and add to the egg mixture. Add
ground cardamom. Sieve baking powder and baking
soda and add to the mixture.
Bind the mixture with your hands to form a smooth
and soft dough, but not sticky. Add more flour or soft
butter, if necessary.
Slightly warm 2 baking trays. Line them with foil and
then with wax paper. Spray lightly with cooking spray.
Divide the dough into 24 balls. Press each ball to
make a patty and arrange 12 patties on each tray, one
inch apart. Put a dot of red food color on each patty.
Bake 1 tray at a time in the middle shelf of the
pre-heated oven for 35 minutes or until crisp and
golden. The exact baking time will depend on your
oven.
These cookies are delicious as snacks, dessert
and for kids' lunch box.