Khokho Tende (Date shaped sugar coated cookies)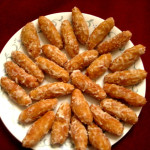 Rating
Yield :

30 cookies
Instructions
Sieve the flour in a large dish. Set aside. Heat 1/3 cup
of oil in a small saucepan, add butter, 1 tbs of flour
and cardamom. Stir with 1 cup milk until the mixture
starts bubbling. This should be done on low heat to
avoid burning the flour mixture and butter.
Remove from the heat and mix with the flour in the
large dish. Bind to a stiff dough with the remaining
milk adding more flour or milk, if necessary.
Divide dough into 30 balls and roll out each ball on a
grater with your hands to insert a design. They should
be oval shaped like dates.
When all the cookies are ready, fry them a few at
a time on medium heat turning frequently to get a
golden brown color and crisp and well cooked within
the fold. Strain out excess oil in a colander and keep
aside in a deep pan till the frosting is ready.
Frosting:
In a saucepan, boil the sugar and water to a thick,
sticky consistency. Add the vanilla extract. Remove
from the heat and pour over the fried cookies, turning
them quickly by shaking the deep pan to coat them
evenly on all sides. Continue flipping and coating until
they are dry. Good for a teatime snack!