Mkate Mimina (Sweet Rice Bread)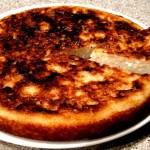 Rating
Yield :

6 servings
Instructions
Soak the cream of rice and cream of wheat in 2 cups of
water for at least 4 hours, or until the flours have risen and
the water absorbed.
Soak the yeast in 1/4 cup of warm water and 1 tsp sugar for
10 minutes. As soon as the yeast has fermented, mix it with the warm
coconut cream and add to the soaked rice and semolina
mixture. Mix thoroughly, cover and leave in a warm place to
rise again for 1 hour.
When ready, add sugar, cardamom seeds and 3 tbs of oil.
Whisk the egg thoroughly and add to the rice mixture.
Stir to make a smooth batter, using more cream if needed for
a thick pouring consistency (thicker than a pancake batter).
Add the coconut flakes and mix well.
Pre-heat the oven at 300°F.
Heat a non-stick round frying pan 9"X2" deep on medium
heat on a stove top. Spread the remaining oil in the pan and
pour the rice batter. Cook the bread, slightly rotating the pan
on the stove to brown the bottom part of the bread evenly.
Turn off the oven and turn on the broiler in the same oven.
When the bread is nicely browned at the bottom, transfer the
pan to the broiler at 300°F to complete the cooking on top
and bottom. Wrap the handle of the frying pan with foil to
avoid burning. Keep the oven door open.
When the top is golden brown and crisp in approximately 5
to 7 minutes, remove the pan from the broiler and check with
a fork to see if the bread is perfectly cooked. If not, return
the pan to the broiler for a few more minutes.
Let the bread cool down before cutting into preferred slices.
Serve with kuku paka, fish paka, mayai paka, spinach, or any
vegetable curry. Also good as a tea-time snack.