Meat Cutlets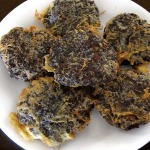 Instructions
Wash the cilantro leaves in plenty of water to remove
sand, drain off the water and grind the leaves to a
smooth paste, with one cup of water. Strain and
separate the pulp from the liquid.
Soak the bread in this liquid and save the paste.
In a large bowl, combine the meat with 2 tbs cilantro
paste, chopped onions, ginger paste, garlic paste,
lemon juice, salt, chili, cumin seeds, coriander seeds,
turmeric powder, fennel seeds, cinnamon powder,
clove powder, cardamom powder, nutmeg powder,
black pepper powder, mint paste, besan, and 1 tbs oil.
Strain the liquid from the soaked bread. Mix the
squeezed out bread with the meat mixture. Keep the
mixture in the refrigerator for 1 or 2 hours to develop
the fl avor.
Take out the meat mixture, whisk 1 egg and add to
the mixture, binding it with the breadcrumbs. Adjust
spices and seasonings according to your taste.
Heat a non-stick iron wok with 2 cups oil. Make round
patties from the meat mixture and fry 3 or 4 at a time,
turning until both the sides are cooked. Strain in a
colander, keep aside until all the patties are done.
Whisk 3 eggs with ¼ cup water. Coat the fried patties
with eggs and fry in hot oil, three at a time. Serve with
chutney or salad of your choice.
A crowd pleasing appetizer dish!