Meat Samosa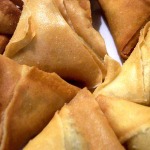 This is a very popular savory snack served as an appetizer, a mid-morning snack, or as a starter
for a big party. Its crispy pastry and spicy fi lling attracts people of different age groups. It can be
fi lled with any ground meat.
Rating
Yield :

35 samosas
Instructions
Stir the meat in boiling water and drain to remove any
fl oating fat.
Add 4 cups of fresh water to the meat and stir adding
ginger paste, garlic paste, salt and lemon juice.
Cover partially and cook on medium heat, stirring
occasionally, until very little water remains.
Add bell pepper, green onions, cilantro and chili and
stir again. Add the spices, mint and sugar and stir until
the mixture is dry and perfectly cooked.
Remove from the heat and transfer to a strainer to
drain away any left-over liquid. The mixture should be
dry before fi lling the samosas.
Add chopped onions when the mixture is completely
cool. This mixture is now ready for fi lling.
Make a paste of fl our and water. Cut each egg roll
wrap into three long strips. Take two strips for each
samosa. Fold and fi ll it with meat mixture, paste it and
fry in medium hot oil, a few at a time until golden and
crisp. The remaining wraps may be frozen for future
use, or they can be fried as crackers.