Pakora (spicy Snack)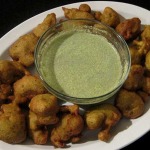 Instructions
Sieve the flours together in a deep glass bowl. Add
water and stir to make a smooth and thick batter.
Gradually add the remaining ingredients, except the
Bicarbonate of Soda, which should be added just
before frying.
The batter should be of slightly thick consistency,
which can be dropped easily with a spoon or by hand,
while frying. The batter can be adjusted by adding a
little water or fl our.
Heat oil in a deep non-stick wok, on medium to high.
Add bicarbonate of soda and mix with the batter. Fry
in medium-hot oil, a few at a time, after tasting the
seasoning. The pakoras should rise and be soft to the
touch. Stir while frying, until light brown on all sides.
Remove with a slotted spoon and place in a strainer
to drain away oil. Arrange on an absorbent paperlined
tray. Serve with multi-purpose chutney or
coconut chutney. Good as a snack and a starter for a
party.