Banana Fritters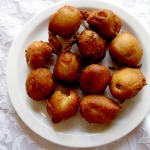 Instructions
Sieve the fl our with the baking powder and add the
sugar, cardamom and the combined milk in a deep
bowl. If you do not wish to use a variety of milk,
you can just use fresh milk to the required quantity.
Add 1 tbs oil. Mix to form a smooth batter.
Cut the bananas in thin slices lengthwise or circles
as per your choice.
Heat the oil on medium to high. Coat the banana
slices liberally with the batter and fry them a few
at a time until well browned on all sides. Strain in
a colander and arrange them on paper towels to
absorb any extra oil.
Serve hot as a breakfast treat, dessert or as a
snack any time. The quantity depends on how
many slices you can make from the bananas. Any
remaining batter can be used to make thin crepes.
Recipe provided in this book.