Dhebra ( Spicy Millet Snack)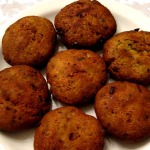 Instructions
Sieve the three types of fl our in a dish.
In a separate bowl mix the remaining ingredients with
¼ cup oil, yogurt and butter. Leave the frying oil aside.
Add the spicy mixture to the flour mixture and bind to
a soft dough, adding more water or fl our, if necessary.
Adjust the salt and spices according to your taste.
Form the dough into small patties and shallow fry in
medium hot oil until golden brown and crispy on both
sides.
Serve with yogurt or any type of chutney.