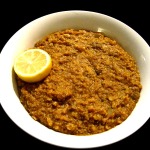 visit this site This is a mixed grains dish combined with meat or chicken and served during feasts and
festivals and also as a family meal.
Instructions
check out this site Cooking the grains:
Clean and wash the rice, daal and cracked wheat and
cook them separately with two cups of water and 1tsp of
oil and ½ tsp of salt in each. Cook the rolled oats separately
with 2 cups of water and 1 tsp of oil, and ½ tsp of
salt. When the grains are ready, mix them together and
grind them to make a smooth mush. Keep aside.
view it Cooking the meat:
Cook the meat, adding 6 cups of water, garlic paste,
ginger paste, bell pepper, tomato liquid, chili paste,
lemon juice and salt until tender. Discard any fl oating
fat. Keep aside.
site de rencontre pour fumeur de cannabis Assembling the hotchpotch:
Heat a large saucepan on medium with half a cup of
oil. Saute the onions till golden.
official source Add crushed cilantro, mint, ginger paste, garlic paste,
cumin seeds, coriander seeds, turmeric powder,
cinnamon powder, fennel seeds, clove powder,
cardamom powder, sugar, salt, chili paste, nutmeg
ground, tomato sauce, ketchup and lemon juice. Pour
two cups of the broth from the cooked meat or chicken.
Simmer one minute.
site de rencontre type badoo Add the cooked meat with a cup of broth to the
simmering mixture, and gradually add the grain
mixture. Stir, lower the heat, add the fried onions,
and let the pot simmer on very low heat, until the oil
oozes out from the sides of the pan. If the mixture is
very thick, add some more broth or water, and if there
is more liquid, let the pan remain on very low heat to
absorb the extra liquid. You may adjust the seasoning
and spices according to your taste.
Transfer the haleem to a bowl and sprinkle some fried
onions on top. Serve hot.