Roti is one of the basic Indian food made practically every day in most of the households. It is also
popular in many parts of the world. There are different variety of rotis and you can choose and
prepare the dough according to your liking. Rotis are simple, nutritious and quick to make. They
can be eaten plain or with any vegetable curry, meat or chicken curry, with eggs, with fruit
preserves or jam & jelly as well as marmalade, honey, kheer, jaggery and seafood. Rotis can be
stored in the refrigerator for a week and can be frozen as well for a couple of months without losing
its fl avor!
Whole Wheat Roti (Flat Bread)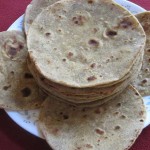 Instructions
Sieve the fl our. Add butter and oil and bind with
warm water to make a smooth dough.
Divide the dough into 10 balls.
Place an iron griddle on medium high heat. Keep a
bowl of butter ready to spread on the rotis.
Keep a paper-lined plate and a steel spatula near
the stove. Take one ball of the dough, roll thinly
on a fl oured pastry board in 5" circles and roast
on the medium hot griddle, turning quickly until
golden and well cooked on both sides.
Transfer to the plate,and apply a little spread of
your choice. Repeat with the remaining balls and
stack them one over the other. When all the rotis
are roasted, cover them with white paper napkin
and again with an aluminum foil to keep them
warm and soft. Serve hot.